It's popped up at the Music Concourse in San Francisco's Golden Gate Park and the Embarcadero Marina Park in San Diego, and now the popular PopUp Dinner concept will make its splash in L.A. for the first time on Saturday, August 25th.
What exactly is a PopUp Dinner? The name isn't as sexy as the event claims to be, but here's how it works. Get your creative hats on and channel your inner domestic diva or Don Juan to create the ultimate outdoor eating experience. This includes mood lighting as there is no electricity, so dining by candlelight takes on a whole new meaning.
The location keeps guests in sexy suspense until 3 pm on the day of, but promises to be somewhere in Los Angeles that is both gorgeous and outdoors. Guests are required to wear all white and bring their own tableware, food and beverages that reflect a love for dining in an elegant and graceful style. There are, however, picnic "baskets" with 5 course meal options available for pre-purchase and pick up at the event if you'd rather not bring your own.
Past caterers have included Le Garage (out of Sausalito, Calif) and Campine (out of San Diego CA). Three Brothers Catering will be providing the food for the LA event. Organizers of the event will be providing tables and chairs and entertainment. There is no "right way" to participate in PopUp L.A. — there is only a time, a place, and a group of your best friends with which to share the experience of this unique event.
More info:
Food
There are two options: Bring-Your-Own food, (tickets $28 pp) or Admission Ticket + "Three Brothers Catered" Dinner – ($78 pp).  Ticket price includes permits for space, alcohol permits for our guests to be able to bring wine and champagne, table & chairs, security, bathrooms, medic station, waste management, musicians, and event set up and clean up. In addition, a portion of proceeds go to Slow Food-Los Angeles.
Couture
White attire is de rigueur! We encourage you to dress in white, elegant fashion from any era; with hats, accessories and creative attire that expresses your own appreciation for style, fashion and beauty. Accessories and shoes need not be white, as long as the overall effect of your outfit is white! *Please no feathers, it is impossible for them to leave no trace behind.
Tables and Chairs
They provide tables and chairs and you provide white tablecloths and table decor. The tables will be 8′ long x 30″ and will be set-up in continuous rows – so use your best judgment as to what size tablecloth will cover the table area needed for you and your party.
Seating
So that large parties can buy their tickets separately but ensure they sit together, seating is first come first served. If you have a large party make sure to arrive as close to the event opening at 5pm as possible so that you will all be able to sit together. Each 8' x 30" table is designed to seat a minimum of 8 guests. If you have a smaller party expect to share your space and bring enough table cloth/ décor to cover just enough space for your party.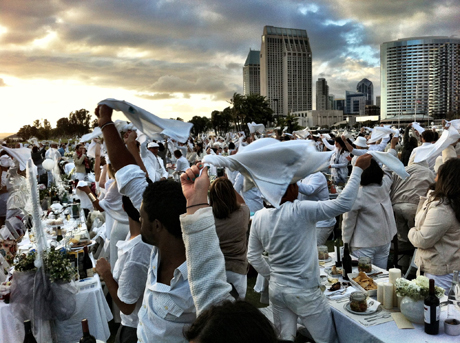 The Table
Once set, each table at the event is an elegant, beautiful place to dine! Get creative as you wish – say, real silverware, candelabras, candlesticks, vases of flowers and whatever else expresses your vision. This is your elegant dinner party for your group within this grand event – have fun! And REMEMBER TO BRING A WHITE NAPKIN FOR THE WAVE (see photo above)!!
The Dinner
This event is meant to inspire the master chefs inside us all! Feel free to bring hors d'oeurves, an entrée, and a special dessert for your elegant dinner party picnic. And, yes, as with any great dining experience, wine, champagne and beer may be enjoyed with your meal. We do, however, ask that you limit wine/ champagne to one bottle per person.
Leave No Trace
Part of the magic of this event is that it gathers so many friends yet leaves no trace at the end of the evening. All parties must bring with them their own white trash bags and plan to take their trash and recyclables with them at the end of the evening, and dispose of any waste they generate at home (not at the garbage cans on-site).
Event Schedule
On the day of the event, guests will receive an email at 3:00pm with the location information – Completed schedule below:
3:00pm … Secret Location Revealed!! (Via Email)
5:00-7:00pm … Guest Arrival/Check-in and Set-Up
7:00pm … Napkin Wave and Dinner Begins!
7:00-9:00pm … Dinner and live musicians
9:00-10:00pm … Dancing!
10:00-11:00pm … Cleanup and Departure
11:00pm … Good Night!
Hand Made Events
PopUP L.A. is produced by Hand Made Events, a small boutique event company specializing in "pop-up" dinner party events. Hand Made Events produces Le Dîner à San Francisco, Le Dîner à San Diego, PopUP L.A. and The Great American Pop-UP Dinner Party – Austin.
For more info or questions, please feel free to post them on Facebook or email at dine.popupla@gmail.com. For tickets, visit PopUP LA.
Photos provided by Hand Made Events.

Lindsay Taub is an LA-based writer/editor who covers travel, lifestyle, culture, music/arts, food, wellness, and more. She calls Los Angeles home when she's there, but prefers to leave the city for the mountains and open spaces as often as possible. She loves cooking, gardening, live music, hiking with her three rescue dogs, and rustic luxury. Follow her on instagram/twitter @lindsaytaub and follow the Pacific Punch @ThePacificPunch or email lindsaytaub58@gmail.com. Learn more at www.lindsaytaub.com and www.voyagevixens.com .***